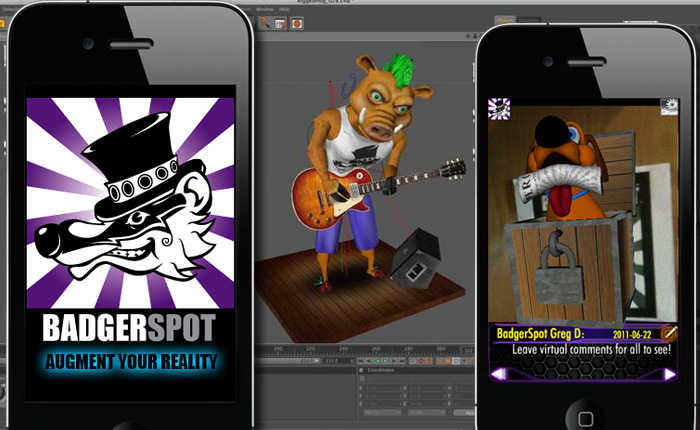 Project Info: BadgerSpot / Paper Companion
BadgerSpot / Paper Companion was one Augmented Reality app that did two very different things, released to the app store in mid-2011.
BadgerSpot was an augmented reality app that used a printed marker on a wall (or a t-shirt) to show some character animation, and allow someone to leave comments at that location, based on the GPS coordinates. We targeted local restaurants and cupcake shops for the initial BadgerSpots.
Paper Companion was an augmented reality app that was used to show ads with video and/or music when running the app and pointing it at ads in the local Memphis Flyer newspaper.
Both apps featured some very neat character work from Chris Magee, including an anthropomorphic pig with a mohawk and a Les Paul guitar playing a solo.
Unfortunately, 2011 was just too early for augmented reality. iPhones had only been out a few years, and it was still several years before Pokemon Go would introduce AR to the world. We found that neither of these projects could be explained to someone over the phone, and even if we showed them, they were sometimes unsure of what they'd seen. It was still a great project to be involved in.
Project Details
Unity 3D App
Published to iPhone App Store in 2011
App Programming by Greg Dunn (me)
Database Programming by Greg Dunn
Characters and logos by Chris Magee
App UI by Troyan Turner
Watch a Paper Companion Demo Video
---